See on
Scoop.it
-
MyWeb4Ed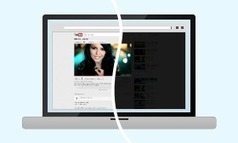 Turn Off the Lights is a browser extension that give you focus to the video you are watching. And it dark the rest of the page.
Carol Mortensen's insight:
What a wonderful idea and very powerful in the classroom. This add-on available on Google Chrome, Firefox, Safari, Internet Explorer, and Opera and in the Windows Store for Windows 8 dims your screen so that the video you are showing stands out. It's very much like the theater darkening at the beginning of the movie! It's an excellent tool, excellent for teaching, and 100% free! Try it out! It has been getting rave reviews and after one video with Turn Off The Light, you'll know why!
See on
www.stefanvd.net