[caption id="" align="alignleft" width="206" caption="MyWeb4Ed Logo"]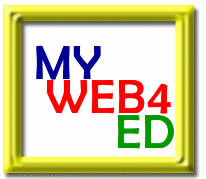 [/caption]
I have stumbled upon some great tools and I wanted to share them you all!  I'm actually very excited about them.
gSyncit - 
http://www.daveswebsite.com/software/gsync/
The first is gSyncit by Fieldston Software!  My District is basically
PC
and, though I adore Macs, I wanted to find tools that work well with the PC environment.  So, I have
Outlook 2010
at home and
Outlook 2007
at work and I wanted my calendar, contacts, notes, and tasks to sync with my beloved
GMail
.  Well, GMail has that figured out with for Outlook 2007 but not for Outlook 2010.  In my search, I discovered gSyncit and was very impressed. It is an Outlook add-on that allows for the syncing to occur.
It was so easy to install and there were absolutely no glitches in the process.  It allows
me
to choose my sync times and I don't even have to think about it!  There are a lot more benefits to the programs but this was the big one for me.  I've not had one single duplicate item!  It does have a trial available and I strongly recommend you give this program a try.  If you decide to purchase, it runs $19.95.  It does have quite a persistent reminder after the trial period runs out but I can't blame them for this!  I also had a few questions for Fieldston Software about the program and received a reply within hours!  You can't beat that kind of response!
So, if you are looking for a way to keep your GMail and Outlook in sync, gSyncit is my recommendation!
Xobni - 
http://www.xobni.com/
Oh my gosh, Xobni!  This is actually a rediscovery for me as I didn't really understand it's capabilities the first time I saw it and sort of brushed it off.  This time, I decided to give the
trial version
a real chance and I am very impressed.  Xobni is an addition to Outlook that does "lightening-fast" searches and they aren't exaggerating.  When I need to find an email from one of my daughters, a search in Xobni which sits in the Outlook window finds it faster than I can type it.  Then, I can quickly scan the results to find her emails with attachments,appointments in my calendar connected to her, and links we've shared.   And, it does this great thing where it threads the conversations, finds attachments, finds connections in emails, and searches the web for info about contacts, and pulls contact information from email messages, signatures, social connections.  I dont' think I can even describe all it can do adequately except to suggest you give Xobni a try! Oh, and
Facebook
friends, you can link to Facebook and see the wall postings, as well.  It's truly amazing!  Give it a try but do explore the features so you don't miss anything!
Loonapix - http://www.loonapix.com/
Loonapix is fun!  At this site, you'll find free tool to create free graphic animations, put your pics in very creative and cool frames, make calendars, and do face effects.  I've added my logo at the top of this blog using one of the animations!  It took me about 30 seconds to make!   It's one of the easiest
web-based
programs I've ever used to do this and is fast in getting the results!  Give it a look for some unique creations!